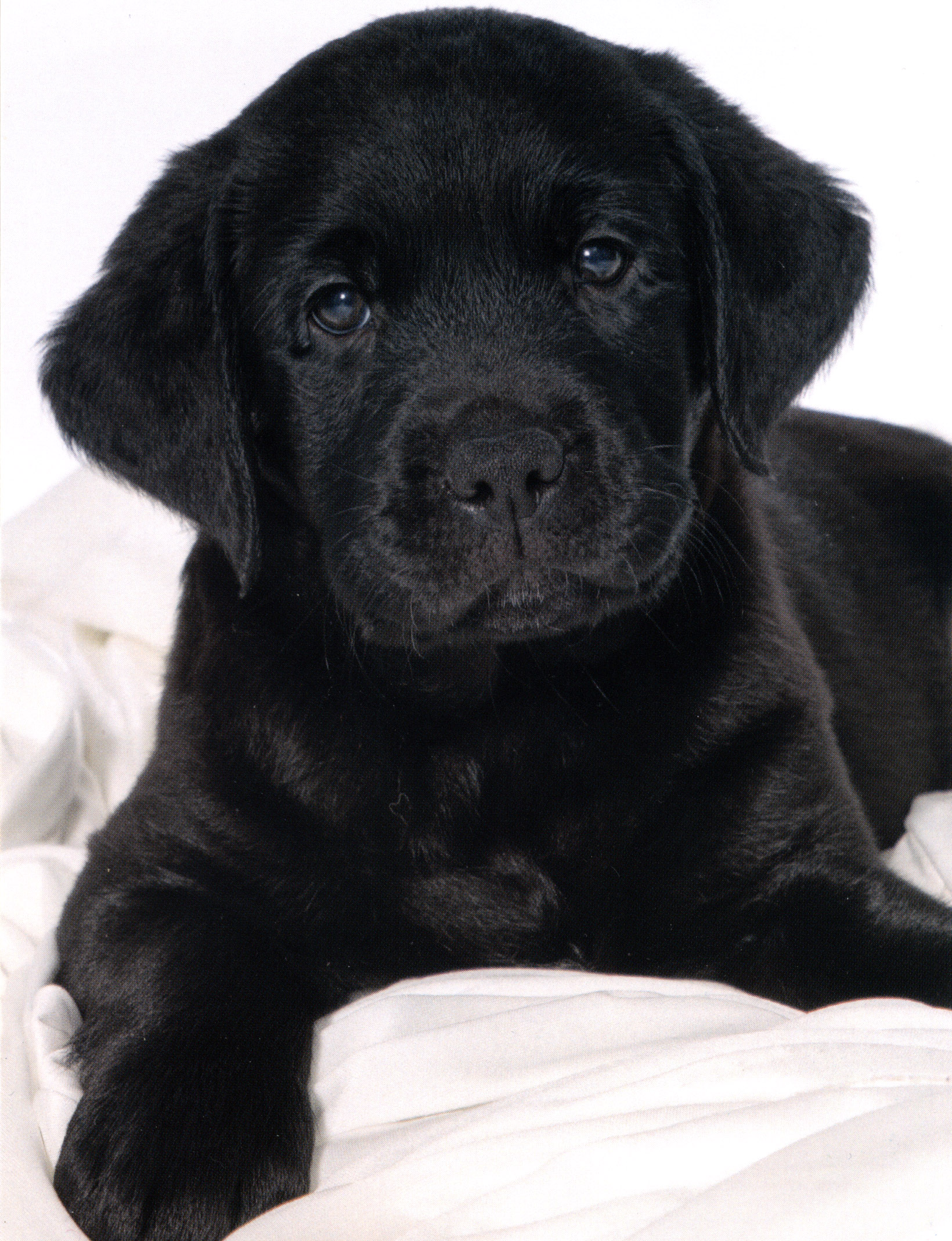 Milo was born on the 14th September 2018 and is
being trained as a Guide Dog.
We are proud to be sponsoring Milo through
his training and working life.
Milo is a Labrador golden retriever cross. He is a bright and playful pup who loves nothing more than bounding around the garden. Now that Milo has been vaccinated and assessed at the NBC, he has been placed with his Puppy Walkers, Josie and Noel, where he will explore the sights, sounds and smells of the world. It's important that Milo has lots of different experiences so he isn't nervous or fearful of new situations. He will learn basic commands like 'sit', 'down', 'stay' and 'come', as well as other skills like to walk ahead on the lead – not 'to heel'.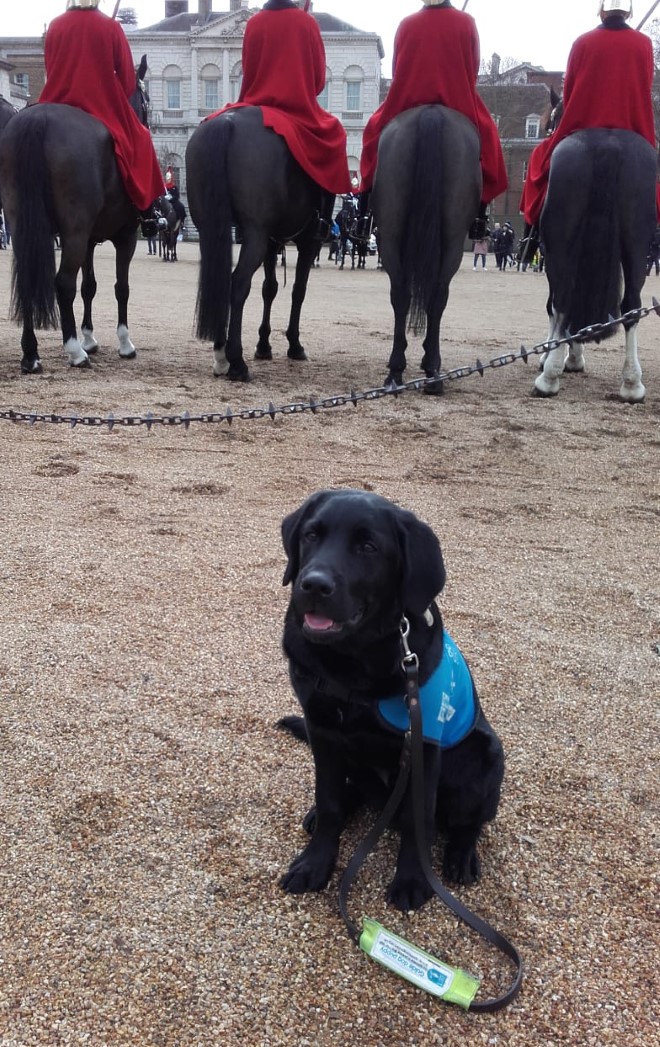 Milo has embarked upon his very first spring adventure by visiting London for the Horse Guards Parade. He was more than happy to pose next to the guards and neither the horses nor the noisy surroundings fazed him!
Hello, it's Josie and Noel here, Milo's Puppy Walkers. We are excited to update you on what he has been up to.
Milo is staying with us for around 12 months before he moves on to Guide Dogs Training School. It's our job to teach him basic obedience, build his confidence and introduce him to lots of new sights and smells. He's such a cheeky little soul and adores food, making it much easier to train him as he'll do anything for a tasty treat!
Milo is the second puppy we've raised for Guide Dogs. Through volunteering as a puppy walker we've made some brilliant friendships. The Guide Dogs community are so supportive, it's a bit like having an extended family.
Milo settled quite quickly into life with us. One thing we have learnt about him is that if there is any food around, you will see his tongue before you see him! He has a very affectionate nature and loves to have a cuddle. He also loves a good game of tug of war. His favourite toy is a monkey, which he will carry in his mouth and run around you when he wants to play.
Milo has a funny habit of 'helping' me when we are unloading the washing machine. He will pull the clothes out but the only problem is that he then likes to run off with them!
Over the last few months we've been taking Milo to puppy classes to learn basic obedience skills. He has been progressing well, learning various commands such as 'sit' and 'stay'. He remains focused on us even with other puppies around which is no easy feat for any young dog.
Milo eats his dinner very quickly and so we bought him a 'slow down' bowl to encourage him to take his time when eating. However, he's learnt to flick the food out with his paw so that he can still eat faster. This makes me laugh lots and shows just how intelligent and cheeky he is!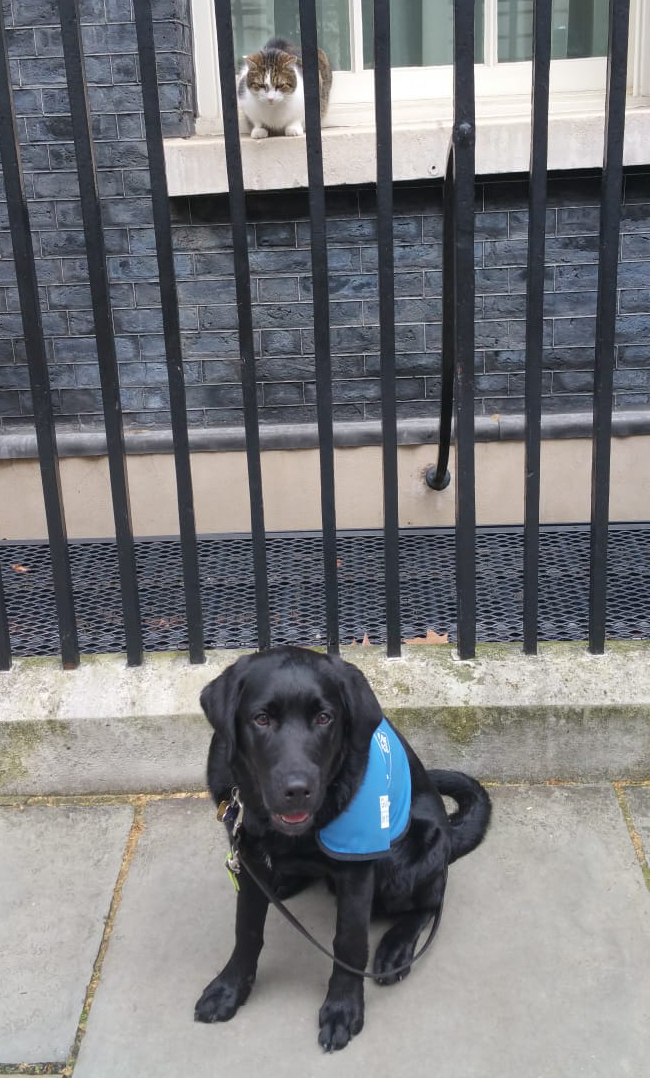 We've been introducing Milo to many new environments such as supermarkets, the airport and even busier places such as London.
Milo went on a Thames riverboat, sat outside No.10 Downing Street when he befriended No.10's cat, Larry. And even travelled on the Underground! Despite the hustle and bustle and strange noises, Milo took it all in his stride. These experiences will prepare him for his future as a guide dog, as he will remain calm and focused when visiting new environments for the first time.
Being outdoors truly brings out Milo's adventurous personality. He enjoys bouncing around the garden and chasing butterflies but he also knows when it's time to focus. Milo has been perfecting his basic obedience skills, so far, the 'sit' command is his favourite!